What is the Renewable Heat Incentive Scotland
As the demand for renewable energy increases the older heating methods begin to lose their appeal. The Renewable Heat Incentive Scotland is a way for the government to try and influence both the public and industries to move away from energy eating heating sources so that they can meet renewable targets. The Renewable Heat Incentive Scotland (RHI)  is being pushed by companies such as Heat Pumps Scotland. Here's why you should invest in RHI.
Renewable Heat Incentive Scotland History
The RHI was first introduced by the UK Government on the 28th of November 2011. They introduced this scheme in order to encourage both domestic and non-domestic properties to start using renewable energy sources such as heat pumps. They do this by offering monetary rewards to those that apply successfully to the scheme.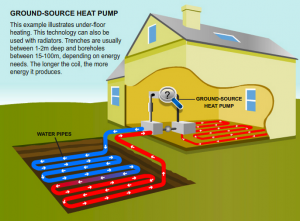 There are thousands of people entitled to these incentives throughout the United Kingdom however, due to lack of advertising a lot of people are unaware that they are eligible to take part in the Renewable Heat Incentive Scotland. Heating Grants Scotland and other corners of the country were created to help the government reach their target of 12% all heating coming from renewable energy by 2020. The RHI specifically targets properties that are off the gas grid and have high usage energy fuels. There are two different sections of the Renewable Heat Incentive, domestic and non-domestic.  They each have different joining conditions, rewards, rules and application processes. If you think you could apply for this incentive here is some information on both.
Commercial RHI
This was the first introduced side of the Renewable Heat Incentive. This applies to buildings in which a heat or ground source pump is in a public, commercial or industrial building. Premises that can apply for the rewards are businesses (both large and small), hospitals and schools. If there is a group of domestic properties that are all heated by one renewable energy source then they will have to apply to the non-domestic grant instead of the domestic side.
Residential RHI
The domestic side of this scheme was introduced following the non-domestic RHI. Introduced in 2014 this applies to you if a renewable energy source heats only a single domesticated property. The source of energy must be fully installed at the time of your application. The domestic grant – if you are successful – will give you financial rewards for a seven year period. The government has introduced this as you are producing clean, renewable energy.